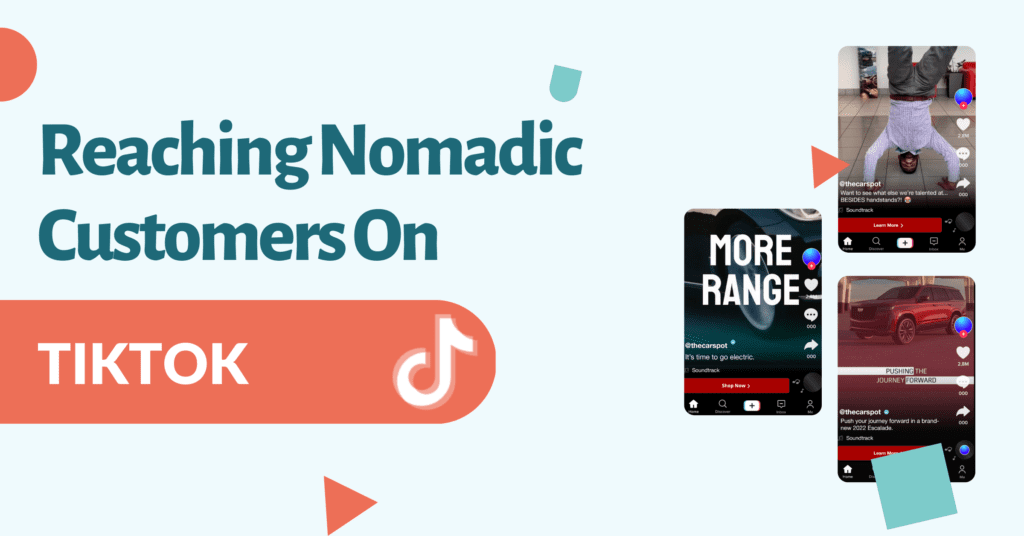 DID YOU KNOW?  TikTok isn't "just for teens…" Millennials and Gen Z actually make up 1 in 3 new car registrations. 83% of TikTok's audience in the US are over 18YO and 34% are over 25YO!
To optimize your presence on TikTok organically, follow these steps:
Getting Started on TikTok:

Create a TikTok Business account by signing up on TikTok Ads Manager using a desktop computer.
If you already have an existing TikTok account for your business, select "Sign up with TikTok" and log in using the same username and password.

Enhancing Your TikTok Profile:

Add a profile photo, bio, email, category, location, and other relevant information.
Access your profile management screen within the TikTok mobile app and select "Edit Profile" to get started.
By completing these steps, you can establish a strong foundation for your TikTok presence and improve your profile's visibility and appeal to TikTok users.
PRO TIP: Include a link in the bio to drive traffic to a desired destination through your TikTok channel. (Ever heard of linktree?!) Create a linktree here.
To effectively utilize TikTok for organic reach, consider the following strategies:
Cross-Promote Your TikTok Account:

Share your TikTok profile on other social media platforms where you have a loyal following. This ensures that your existing audience is aware of your presence on TikTok.

Engage with the TikTok Community:

Follow relevant users and engage with their content on TikTok. Take inspiration from what others are posting, including your audience and competitors.

Don't Be Afraid:

As a beginner on TikTok, don't be afraid to create simple and genuine TikToks. Focus on content that accurately reflects your brand and resonates with your TikTok audience. The complexity of TikToks doesn't determine their success.

Understanding the TikTok For You Page (FYP):

TikTok's algorithm delivers content to users based on their interests, and the primary platform for this is the "For You" page (FYP).
The FYP is the first thing users see upon opening the TikTok app and offers a continuous feed of curated content personalized for each user.
TikTok aims to keep users inspired and engaged by providing diverse discoveries through the FYP.
By implementing these strategies, you can enhance your presence on TikTok and increase your chances of reaching a wider audience through the platform's algorithm-driven content delivery.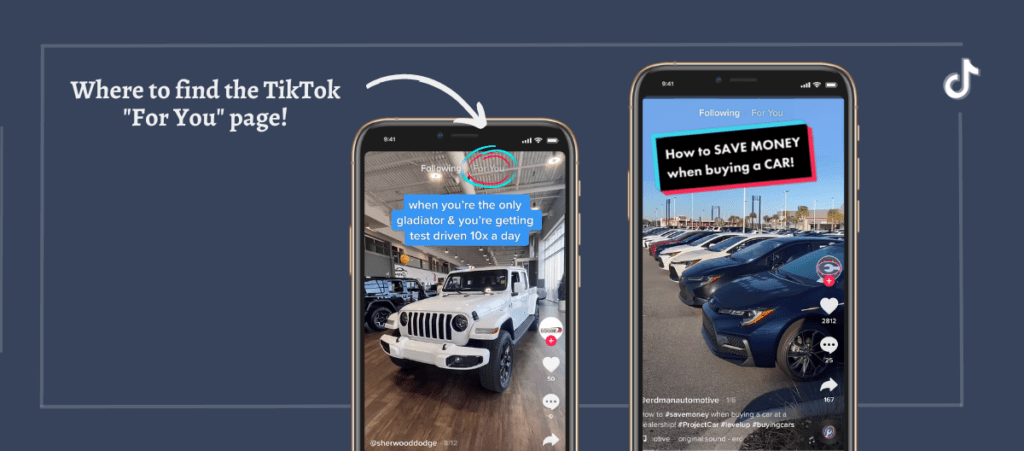 PRO TIP: Dealers should evaluate common interests of ideal customers/target audience or local market, and curate content based on the interests they've identified.
To increase the chances of reaching TikTok users' For You Page, consider the following tips:
Use proper hashtag etiquette: Include popular hashtags such as #fyp, #foryou, and #foryoupage in your TikTok captions. These hashtags can increase the visibility of your content to users who are likely to be interested.
Create short-form, sound-on videos: Stick to 15-second videos as they tend to perform better on TikTok. The platform's algorithm prioritizes shorter videos, allowing users to consume more content in a shorter amount of time.
Post high-quality videos: Capture and share high-quality content as TikTok's algorithm recognizes and favors videos with better visual and audio quality. Avoid posting low-quality, pixelated, or blurry videos.
Deliver new content when your target audience is active: Use TikTok's analytics to determine the most active times of your followers. Posting during these times increases the likelihood of your content appearing on their For You Page.
When creating content for TikTok, keep these tips in mind:
Listen to your audience: Absorb as much content as possible by exploring the 'Discover' tab and searching for popular automotive-related hashtags. This allows you to understand the type of content that resonates with TikTok's auto shopper community.
Tap into your creativity: TikTok provides unique tools and features that can't be found on other platforms. Explore and experiment with these tools to create engaging and entertaining content that aligns with your dealership's marketing strategy.
By implementing these strategies and understanding the preferences of the TikTok algorithm, dealers can increase their chances of reaching the For You Page and effectively engage with TikTok's hyper-engaged community of auto shoppers.
Listen to your audience: Absorb as MUCH content as possible. Utilize the 'Discover' tab to search top automotive hashtags, like:
#electriccar
#cars
#SUV
#carlovers
#offroad
#driving
#roadtrip
#truck
#carsoftiktok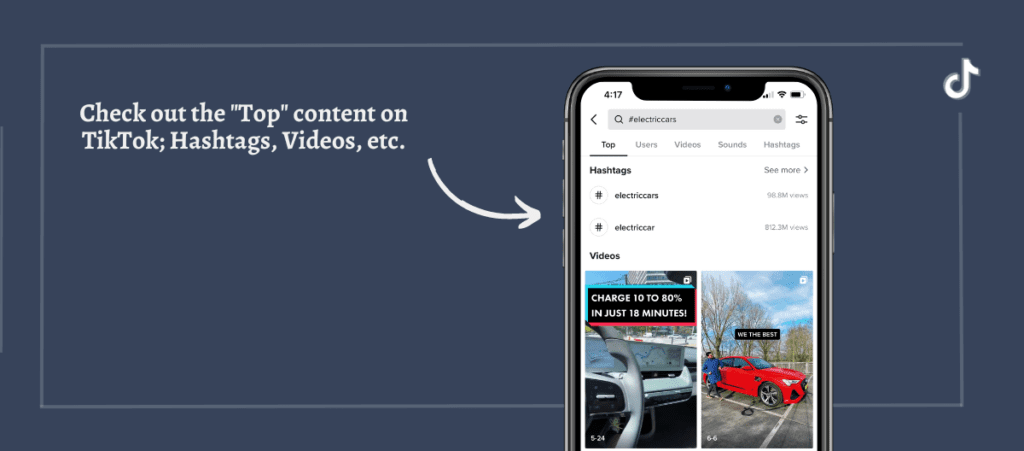 To find out what type of content the automotive community on TikTok is most entertained by and engaged with, you can follow these steps:
Explore the 'Discover' tab: Use the 'Discover' tab on TikTok to search for keywords related to the automotive industry. This will allow you to discover trending sounds, hashtags, challenges, and content that are associated with the automotive community.
Pay attention to trending content: Observe the types of content that are currently trending within the automotive community. Look for popular video formats, creative approaches, and engaging storytelling techniques that are capturing the attention of TikTok users.
Identify popular hashtags: Take note of the hashtags that are commonly used within the automotive community. These hashtags indicate the topics and themes that resonate with TikTok users interested in cars, vehicles, and automotive culture. Incorporate relevant hashtags into your captions when posting content.
Capitalize on trends: Adapt your content to align with the current trends on TikTok. Explore and participate in popular challenges, use trending sounds, and incorporate viral video formats that are popular within the automotive community. This allows you to tap into the existing interest and engagement surrounding these trends.
Utilize the 'Duet' and 'Stitch' features: Engage with other TikTok users' videos that are trending within the automotive community by utilizing the 'Duet' or 'Stitch' feature. This allows you to create a collaborative or reaction video, building your brand persona and establishing a connection with your TikTok audience.
Experiment with different content styles: Take advantage of the opportunity to experiment with various content styles and storytelling approaches on TikTok. Test different formats, such as behind-the-scenes footage, tutorials, funny skits, or informative videos, to see what resonates best with your audience.
Analyze TikTok's performance analytics: Use the performance analytics provided by TikTok's Business Account to track the engagement and performance of your content. Identify which types of content generate the highest engagement, views, and shares among your target audience. Let the data guide your content strategy and focus on producing more of what works.
By staying informed about trends, understanding the preferences of the automotive community on TikTok, and utilizing the platform's performance analytics, dealers can create engaging and relevant content that drives high engagement and resonates with their audience.