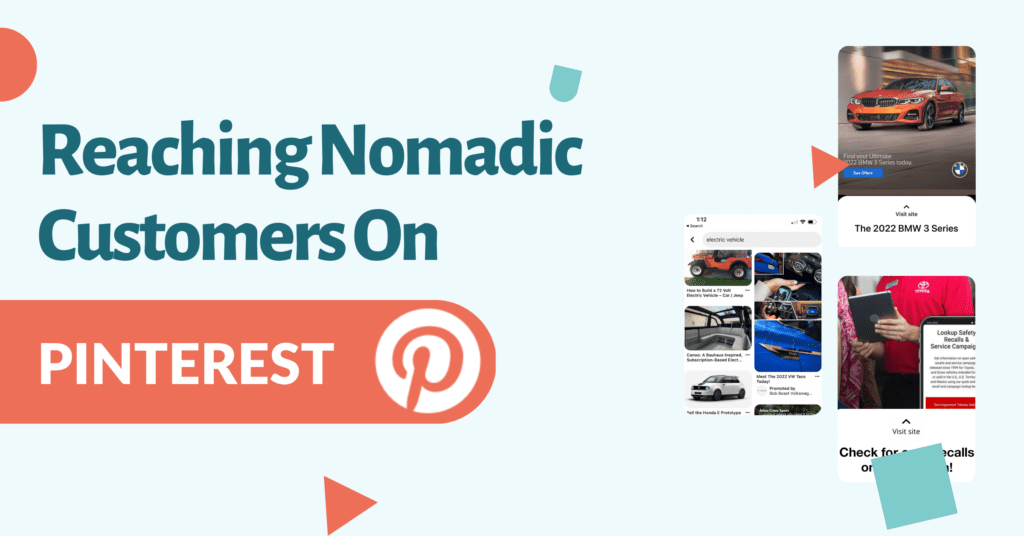 "Must-Know" Stat for Pinterest: 45% of the people in the U.S with household income over $100k are on Pinterest.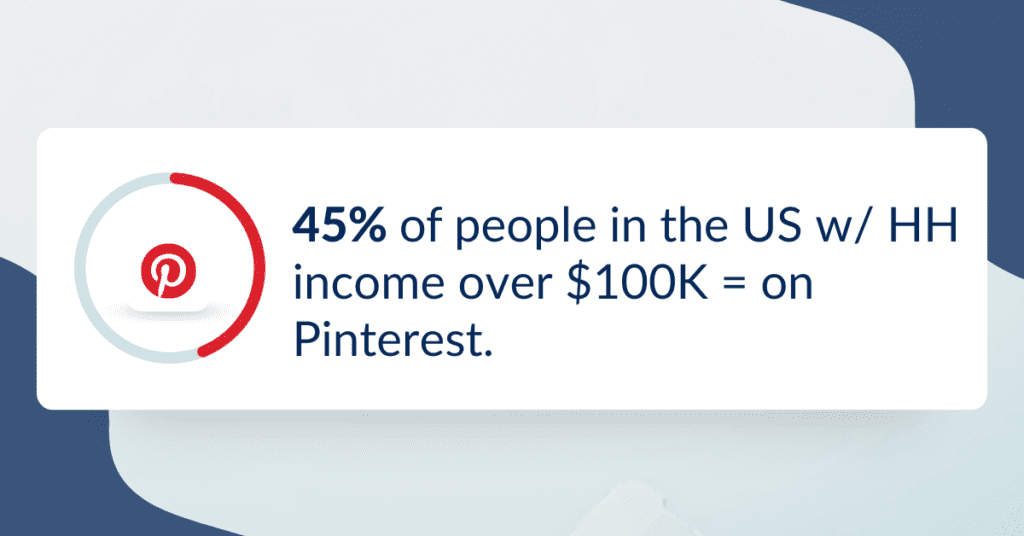 Organic Optimization on Pinterest
Pinterest organic reach plays a vital role in the Pinterest marketing strategy of auto marketers. When targeting the Automotive Nomadic Customer, this platform enables dealers to effectively reach, inspire, and establish a strong dealership brand presence where customers spend their time.
Getting Started on Pinterest
Complete Business Account: Ensure that your profile picture and bio accurately represent your brand. Fill in all the information fields and incorporate keywords related to your OEM, location, and inventory.
Create Boards: Develop boards that align with your dealership's brand or OEM and categorize your content accordingly. Choose enticing and descriptive names for the boards.
Pin Regularly: Consistency is crucial on Pinterest. Pin several times a day, including both your own content and content from other relevant sources.
The Basics of Pinterest Organic For Dealers How Dealers' Posts Reach Automotive Nomadic Customers on Pinterest? Users encounter a dealership's pins on Pinterest through various channels:
Home Feed: Users see a dealership's pins in their personalized home feed, which displays content based on their interests and past engagement.
Search Results: Users can search for content on Pinterest using keywords, and relevant dealership pins will appear in the search results if they are optimized for search and contain relevant keywords.
Related Pins: When users view a specific pin, they also see a section called "Related Pins" that displays similar content of potential interest. If the dealership's pins align with the user's interests, they will appear in this section.
Boards: Car shoppers can discover a dealership's pins by visiting their boards. By creating boards that align with the dealership's brand and offerings, users can find the most relevant content.
Profile: Automotive Nomadic Customers can visit a dealership's profile to explore all the boards and pins created. This provides users with an overview of what sets the dealership apart from others.
Creating Content For Pinterest
Use High-Quality Images: Pinterest relies on visuals, so ensure your images are high-quality and visually appealing. Use images that accurately represent your dealership's brand and showcase the latest vehicles and services.
Utilize Vertical Pins: Vertical images perform better on Pinterest, so create tall and narrow pins. Vertical images occupy more screen space, capturing the attention of the Nomadic Customer.
Maintain Simple and Clean Design: Keep your pin designs simple, clean, and focused on essential information. Avoid clutter and excessive graphics, ensuring that pins are visually appealing and easy to understand.
Incorporate Clear and Bold Text: Use clear and bold text in your pins to provide additional context and information. Ensure the text is legible against the background image.
Create Relevant Boards
Develop boards that align with your dealership's offerings and services, categorizing your content accordingly. Give the boards descriptive names and organize the content to facilitate easy navigation for users.
In Summary: Maximizing Organic Pinterest for Dealers
Pin Consistently: Active and engaging accounts are more likely to be seen by users. Aim to pin as frequently as possible.
Use Keywords: Incorporate automotive-specific keywords in pin descriptions, board names, and profile to enhance discoverability. Use relevant keywords related to your dealership, such as vehicle makes and models, as well as the services you offer.
In Summary: How Dealers Will Maximize Pinterest Organic