BuzzGuru Influencer Analytics is an app designed for influencer marketing discovery and competitive intelligence. It offers agencies and brands valuable insights and analytics on influencer performance and competitor campaigns across popular platforms like YouTube, Instagram, Twitch, and TikTok. You can find the app in the Semrush App Center.
How Can BuzzGuru Influencer Analytics Benefit You?
By using the BuzzGuru Influencer Analytics app, you can:
Discover and analyze influencers on social media
Make data-driven decisions based on influencers' metrics
Obtain reports on campaign performance
Create and manage campaigns with social media influencers
Conduct market research and competitor analysis
What Does BuzzGuru Influencer Analytics Include?
The app's main window is divided into seven tabs:
Home
Influencer Discovery
Campaign Management
Search by Keywords
Competitor Analysis
Lists
Tops
Influencer Discovery
In the Influencer Discovery tab, you can explore influencers on YouTube, Instagram, Twitch, or TikTok that pique your interest. Utilize various filters to search for influencers based on criteria such as country, language, audience size, and more.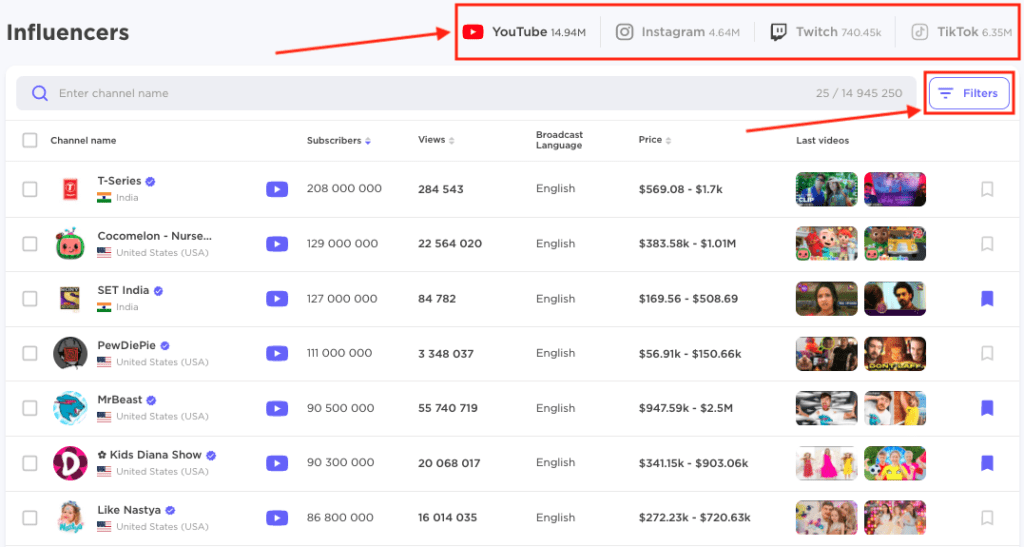 Clicking on a particular influencer will take you to their page where you can find useful information such as the frequency of publications, statistics on the number of views and subscribers, the estimated cost of advertising, and more.
You can create custom lists of bloggers and streamers you may be interested in working with further. All influencers whom you add to the lists are stored in the Lists tab at the top of the app for quick access.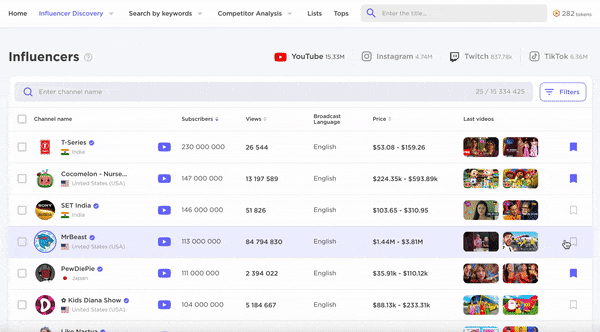 Pricing:
The Basic plan subscription starts at $169 per month. Additionally, you can add Competitor Analysis for $129 per month and Campaign Management for $69 per month.
Access to reports on specific Instagram influencers requires tokens. Purchasing the Basic plan provides you with 50 tokens, and upgrading to Competitor Analysis grants you 20 additional tokens (totalling 70 tokens).
You have the option to purchase extra tokens based on your needs. You don't need to spend tokens twice for accessing reports already available to you. Here are the token pricing options:
25 tokens: $50 per month
40 tokens: $70 per month
100 tokens: $185 per month